Danvest components will be added to a conventional high speed genset.
All factory warranties apply as the engine remains untouched.
A Danvest genset operates like any other diesel generator.
Using standard components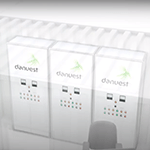 THE 'DEMS'
The 'Danvest Energy Management System' enables the genset to operate
effectively under the 30% load at low fuel consumption. The system is
grid-forming at all times, even when the engine clutches out, never losing
frequency and voltage control.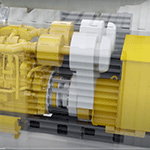 MAGNETIC CLUTCH (optional)
The engine can de-clutch and stop when surplus renewable energy hits a
set-point. The alternator continues to rotate at a constant speed and
remains connected to the busbar. When the engine has to restart, it starts
fast as it is disconnected, pre-heated and pre-pressurized.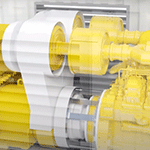 PRE-PRESSURE SYSTEM
The pre-pressure system blows heated air in the air receiver when
Danvest is in low-load operation. It avoids engine oil to loop up
and it enables a better and cleaner combustion.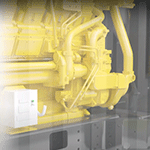 PRE-HEATER SYSTEM
The pre-heater system cooperates with the radiator system to heat up
the engine cooling water when Danvest is in low-load operation. Avoiding
cooling down of the engine enables a better and cleaner combustion.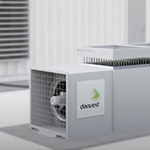 DUMP LOAD CONTROLLER
A reliable dump load controller assists during fast load variations and
when in low-load operation. It secures a balance between fluctuating energy
supply and energy demand. The straightforward dump load system can
optionally be replaced by a battery pack.
Energy Storage Systems (ESS)
are optional
There is no technical reason to add a storage system to Danvest. Adding an ESS can purely be seen
on its own economical and practical merits.
A precondition, is that renewable energy surpluses should appear on a regular base.
But these surpluses can sometimes also be allocated to energy off-takers like heaters,
water pumps, TES systems, electric vehicles etc.
Any added storage capacity will add straight
to the direct fuel savings of Danvest
Hybrid inverters will not be necessary as Danvest always forms the grid.
The amount of cycles and wear and tear of an ESS will be minimal.